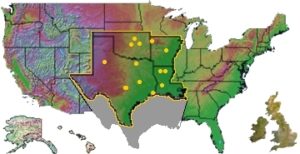 The Associated Schools of Construction (ASC) is the professional association for the development and advancement of construction education, where the sharing of ideas and knowledge inspires, guides and promotes excellence in curricula, teaching, research and service.
The ASC Region 5 – South Central Region is comprised of the colleges and universities offering four-year and two-year construction management, science and technology degrees in Arkansas, Louisiana, Oklahoma, and Texas.
---
2023 Regional Competition
February 18-20, 2023
The Region 5 competition is planned for Feb. 18-20, with the on-campus portion on Saturday 2/18/23. There is a dinner meeting on Sunday, where times for presentations are determined.  In-person presentations on Monday 2/20/23.
2023 Sponsors:
Design Build (Open International / Open Graduate Student):  
Austin Commercial
Heavy Civil:  Austin Bridge and Road
Commercial:  Andres Construction
For ease of communication, competition registration forms are available online: https://forms.gle/sqg6G4E7QmbKkXYe8. Registration Payment ($100 per team) may be made by Credit Card or Check. Credit Card – Please visit: Click Here. Please indicate Region 5 under invoice number on the website.
Check – Please mail checks to: Associated Schools of Construction, PO Box 21367, Cheyenne WY 82003 (Invoices will be provided by request.)
Location Information: Hurst Conference Center, 1601 Campus Dr, Hurst, TX 76054. Room blocks at multiple hotels will be announced.
http://region5.ascweb.org/competition-rules/
The Student Code of Conduct form needs to be completed by each student attending the competition: https://forms.gle/orGqJhsaCcYzsftH8.
The Student Competition Liability Release form needs to be completed by each student attending the competition: https://forms.gle/L1ZkHXSPidkJeXGa9.
---